INTERACTIVE ATTRACTIONS
LET US MAKE YOUR EVENT A MEMORABLE ONE. OUR GIANT INFLATABLE GENERATES FUN AND EXCITEMENT THAT IS SURE TO ADD TO THE SUCCESS OF ANY EVENT.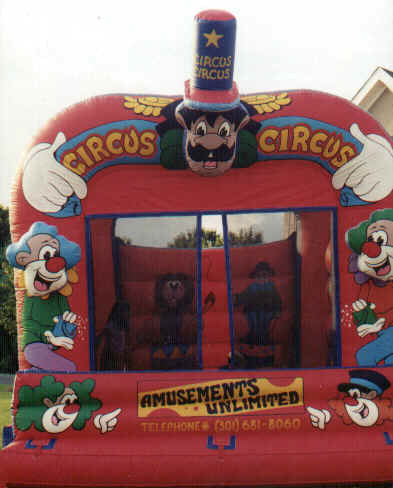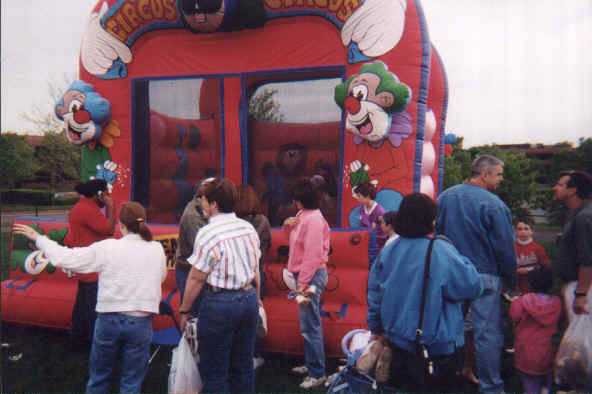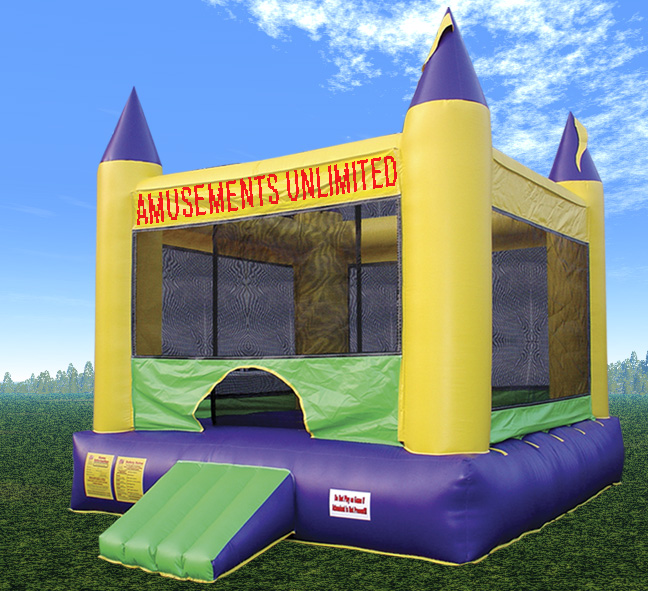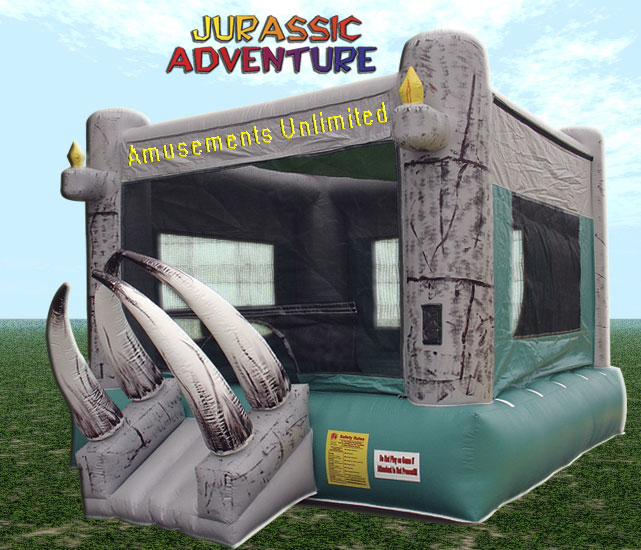 MOONBOUNCE RIDES
The most popular ride for the children,
let them bounce until their hearts delight.

Merlin The Magician Super Moonbounce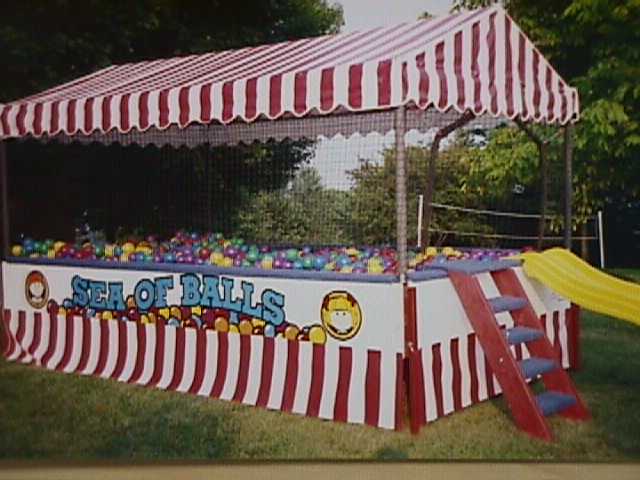 SEA OF BALLS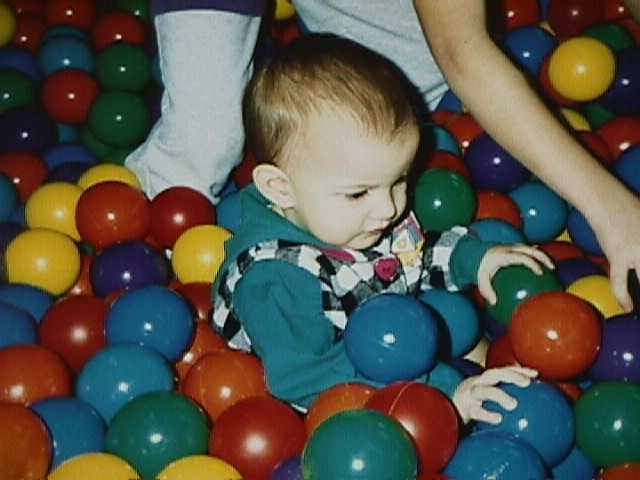 The tiny tots thrill crawling, walking and playing in
thousands of colorful balls.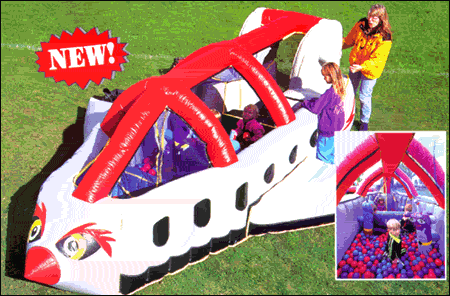 Space Buggy
This extraterrestrial playland is a fun experience for pre-schoolers that's out of this world ! With 2 separate play area - a ball pond and a soft play area. Velcro attached netting all around keeps all the fun and excitement contained .

Laugh & Learn Playcenter
Fabulous fun and entertainment for pre-shoolers . Parents can relax while their toddlers crawl/walk on this enclosed play area. Learning features include : Number matching, color blocks, zipper practice, shoelace tie, velcro stick , shape identification, left foot and right foot matching . The play features include : Slide down, crawl through, and mini ball pond.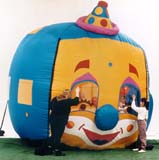 BALLOON TYPHOON
Youngsters are enchanted playing with and chasing
a whirlwind of multicolor balloons in this inflatable clown's head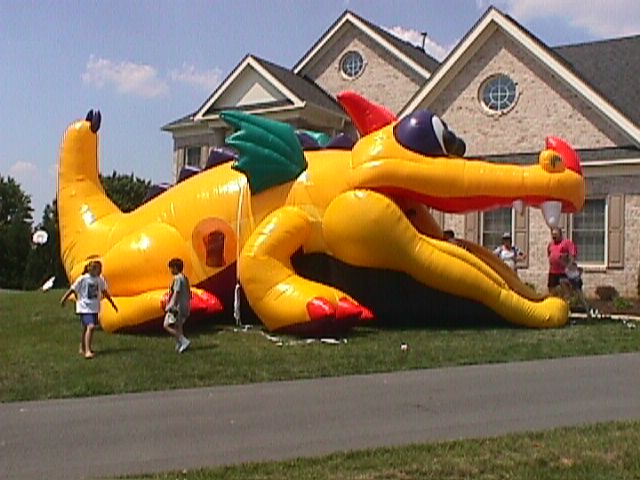 DRAGON SLIDE -N- HIDE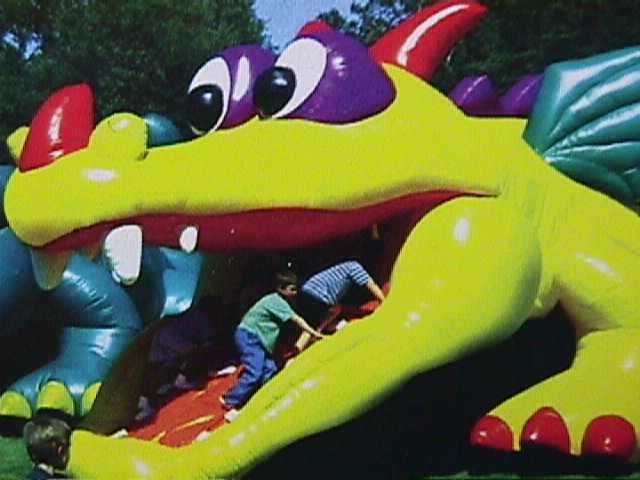 DRAGON SLIDE -N-HIDE
A magnificently attractive inflatable 35' dragon entertains the
children as they climb up the tongue, and slide into the bouncy
belly that is full of swallowed obstacles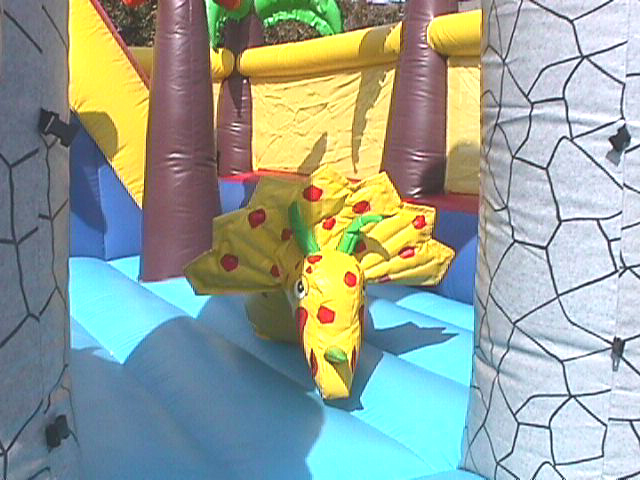 Dino Land Kids Play Area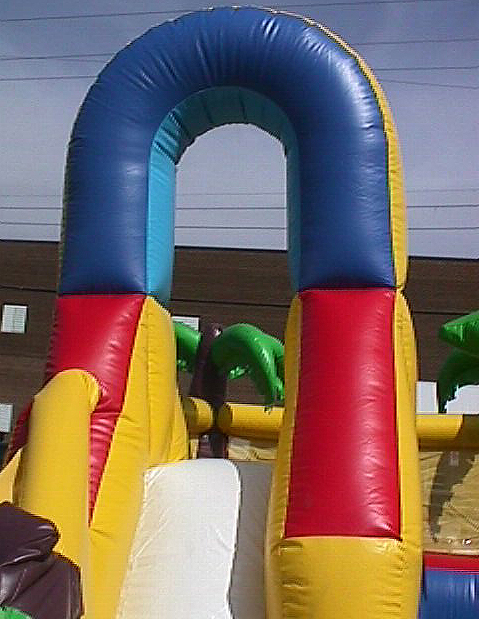 Inside Dino Land Kids Play Area
Children enter the realistic stone arch entranceway into an inflatable prehistoric play land and ride huge colorful dinosaurs,
climb the ladder and slide down into the bouncing land of giant plants. A real blast!!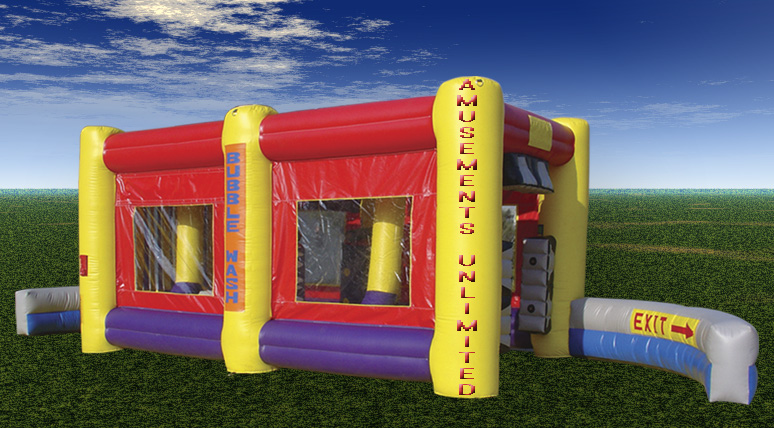 BUBBLE WASH
Whether you're a hot, sweaty, kid or an adult, enter the inflatable scrubbers
and get washed in water as a constant stream of air blows through and cools you off.
A great looking piece of equipment with lots of details. A hit at car shows, company picnics
and festivals.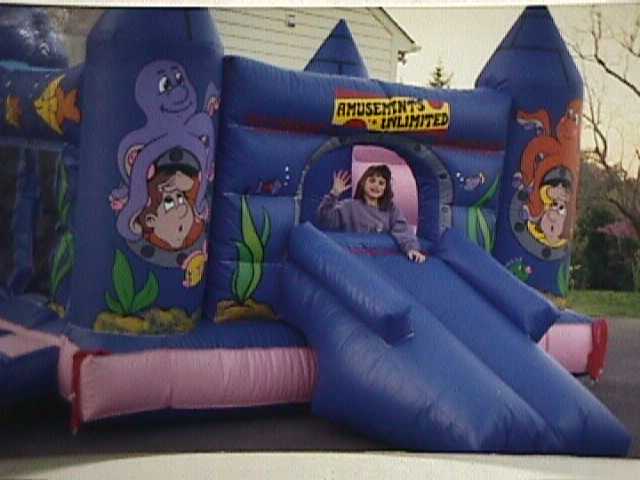 Click Here to see entire selection of Birthday Party Kiddie Moonbounces
DO-IT-YOURSELF KIDDIE MOONBOUNCE, PERFECT FOR CHILDREN 8 AND UNDER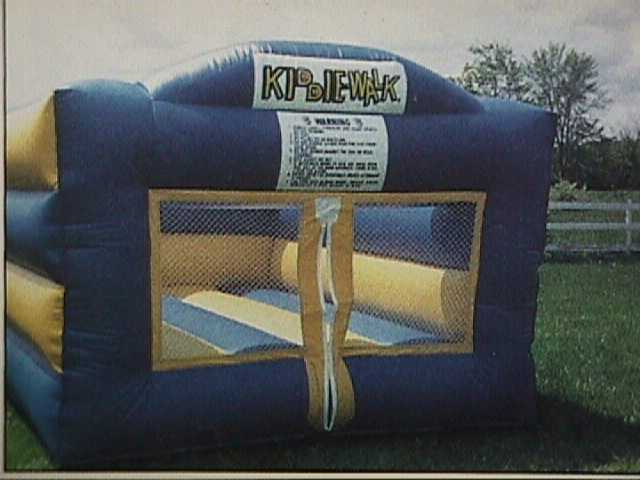 KIDDIE WALK MINI MOONBOUNCE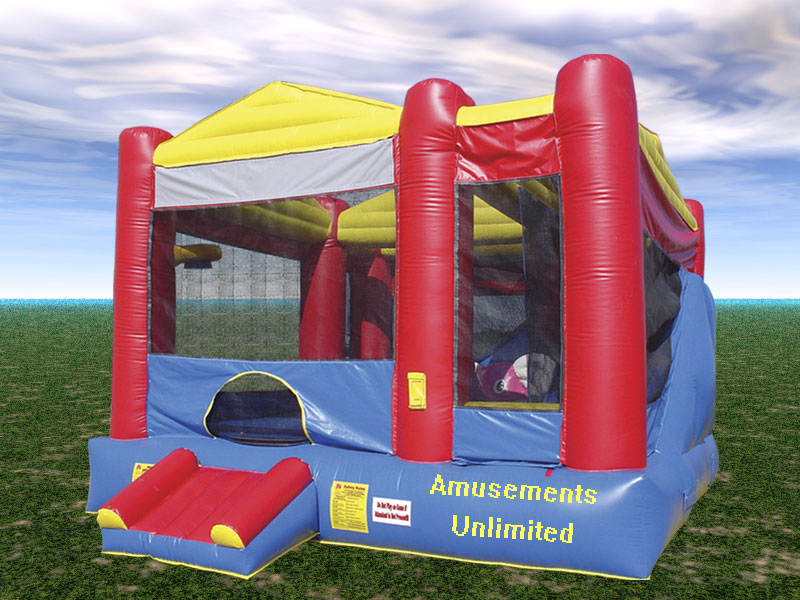 Five-In-One Combo Bounce
This super fun inflatable combines climbing, sliding, animals,
basketball and bouncing all in one play house.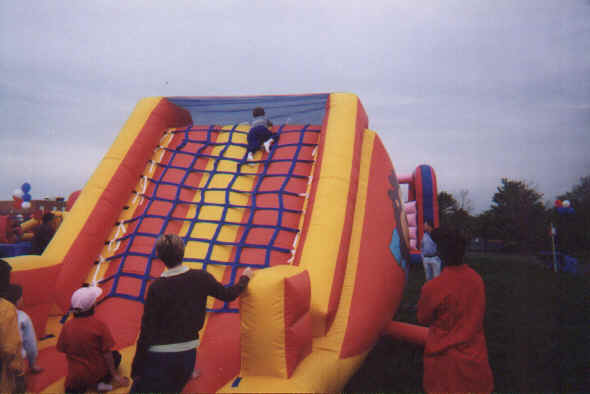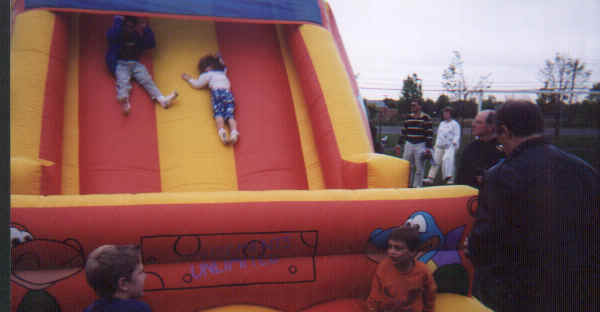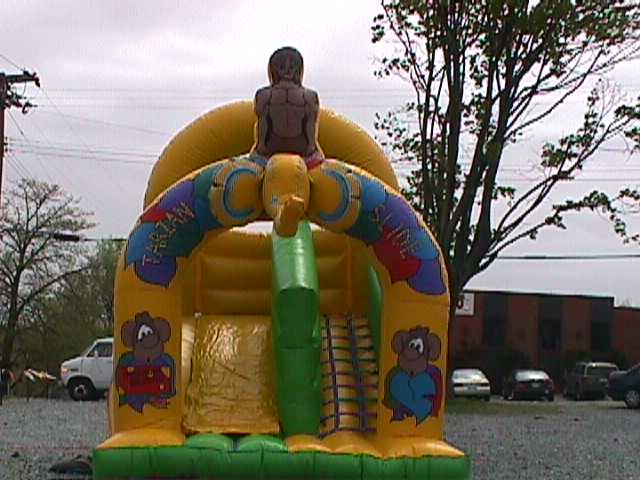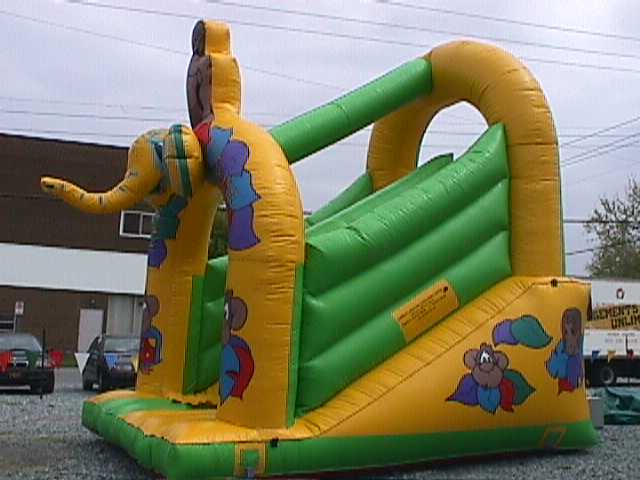 INFLATABLE SLIDES
Fabulous fun for elementary age children. Climb up one side and slide down the other.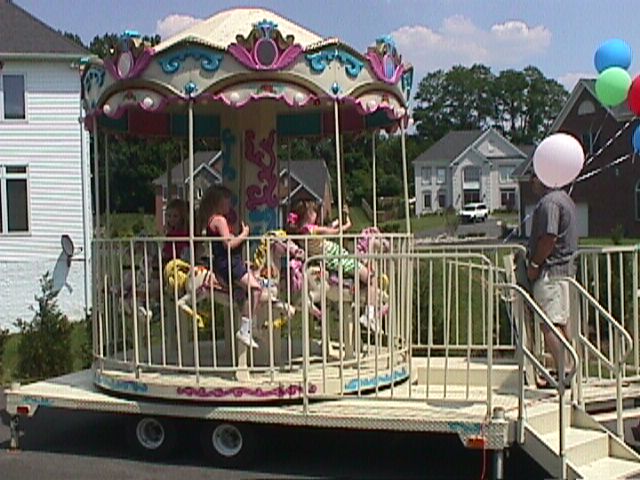 BRAND NEW beautiful hand-painted 8 pony Carousel with calliope music.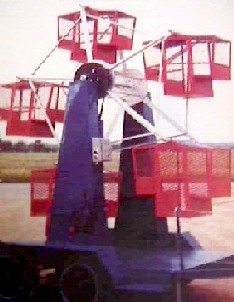 Kiddie Ferris Wheel
An ideal ride to create a carnival atmosphere for any party or event. With five buckets, this ride seats up to 10 children at a time.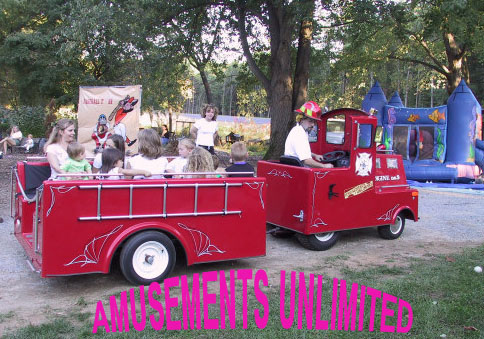 Red Fire Engine Ride
Children love this ride !! Board the fire engine and search for a fire while the siren rings, lights flash and the bell clangs. Looks like the real thing with ladders, hatchet and fire extinguisher. Holds up to 12 people.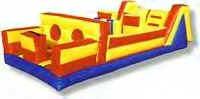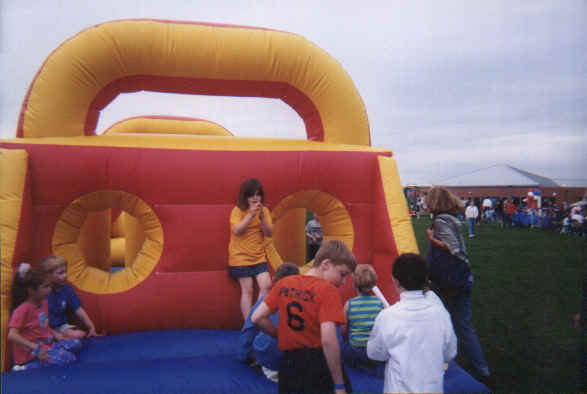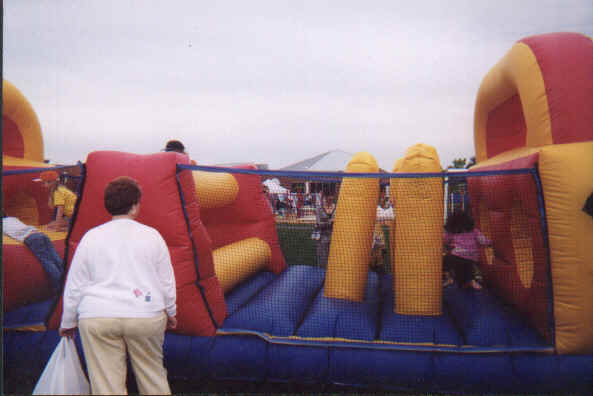 OBSTACLE COURSE: Two children race against each other climbing through, over and under sections of this colorful inflatable obstacle course trying to finish first.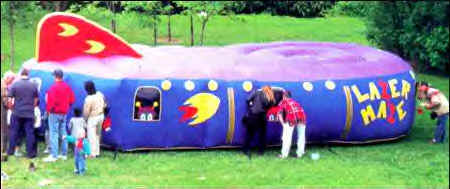 LAZER MAZE
Step into this 18'x32' inflatable lazer tag maze and try your
best at dodging your opponents lasers while trying to locate
and shoot them, or leave out the laser guns and just have fun
sneaking around and playing in this huge maze.

Roller Racer Riders
A favorite ride for children and adults! Have a seat on the scooter and off you go! With its unique drive system powered by your energy! You just swing the handle bars from side to side to make the racer move faster and faster for a wild ride! Self propelled and non-motorized, the rider sits only 2 inches off the ground and is on one of the safest rides. The Roller Racer Scooters have no weight limit and can be enjoyed either indoors or outdoors, as long as you have a hard flat surface to ride on.
Enclose your guests riding fun with a 30'L x 30'W x 18'H Inflatable Bumper Ring. Adds extra fun to your Roller Racing Riding experience!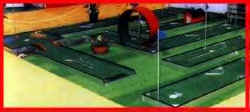 10 Hole Miniature Golf
Try your golfing skills with this 10 hole mini golf course complete with balls, clubs, scorecards and pencils. Can be set-up indoors or outdoors. Great for all ages.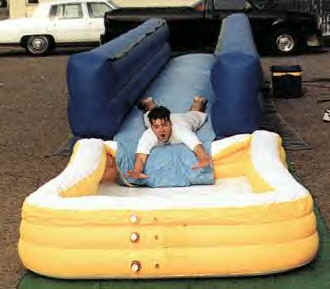 Slip & Slide
Grab your bathing suit and cool off this summer while having a blast sliding across this slippery wet runway landing in a pool of water.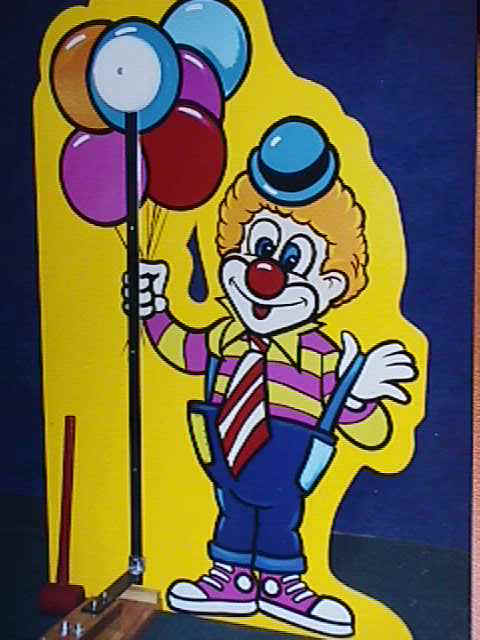 KIDDE HI-STRIKER
Children of all ages love to prove their strength by trying
to ring this colorful clown's bell.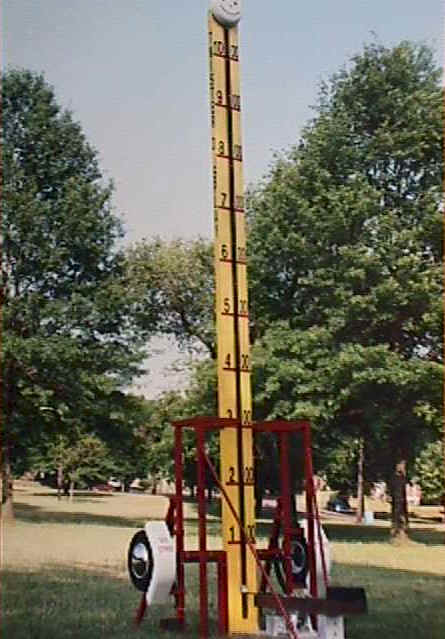 HI-STRIKER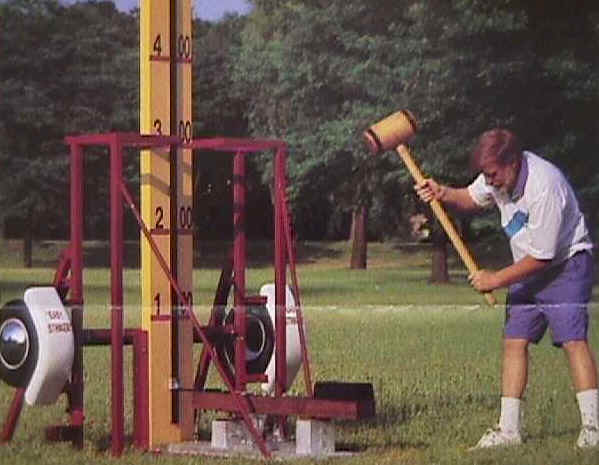 This carnival favorite allows you to hammer away your
frustration and test your strength.
Are you strong enough to ring the bell at the top ???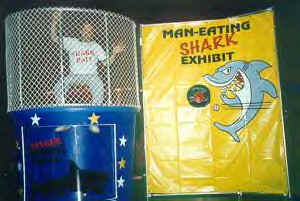 DUNK TANK
Dunk Tank is a classic at any carnival. Step right up and aim
at hitting the target and dunking your
friend sitting on the seat in the see-thru tank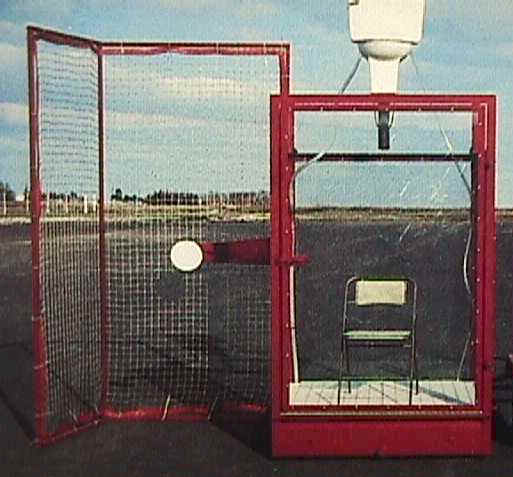 ROYAL FLUSH DUNK TANK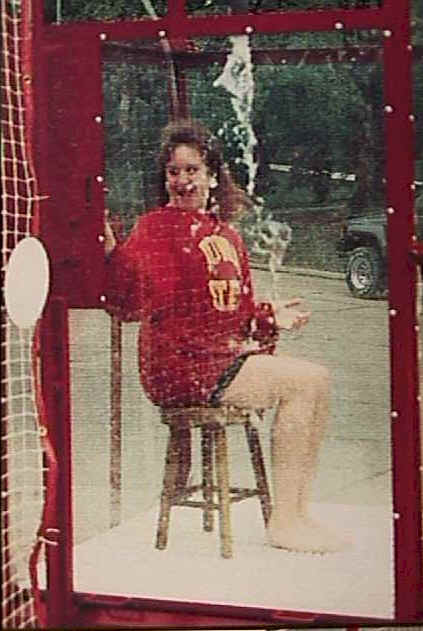 FLUSH TANK IN ACTION
STEP UP AND TRY YOUR THROWING ACCURACY TO
"FLUSH" ON YOUR FAVORITE TEACHER, BOSS OR FRIEND.
A LITTLE WATER NEVER HURT ANYONE. EVERYONE ENJOYS WATCHING!!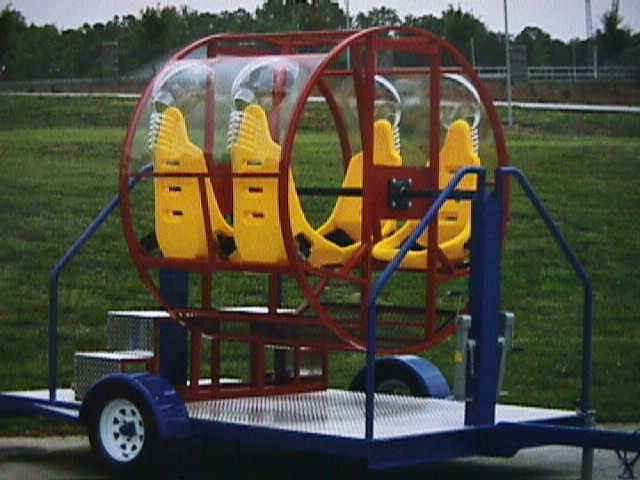 KART WHEEL
DO NOT MISS THIS RIDE!! A HUMAN TUMBLER THAT ALLOWS UP TO 4 PEOPLE
AT A TIME TO GO ROUND AND ROUND UPSIDE-DOWN FOR A THRILLING TIME
ARE YOU READY FOR SOME G- FORCES???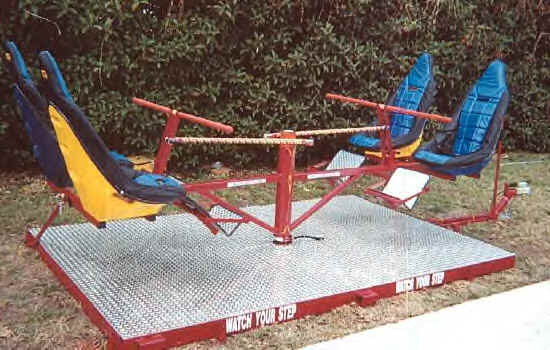 G Force / Twin Spin
A great interactive ride for both children and adults. Four people climb aboard, buckle the belts and ... off they go .... As they begin pumping the handles -around and around they start to spin. The faster they pump the faster they go as the ride continues free wheeling until the operator applies the brake and the ride comes to a safe stop.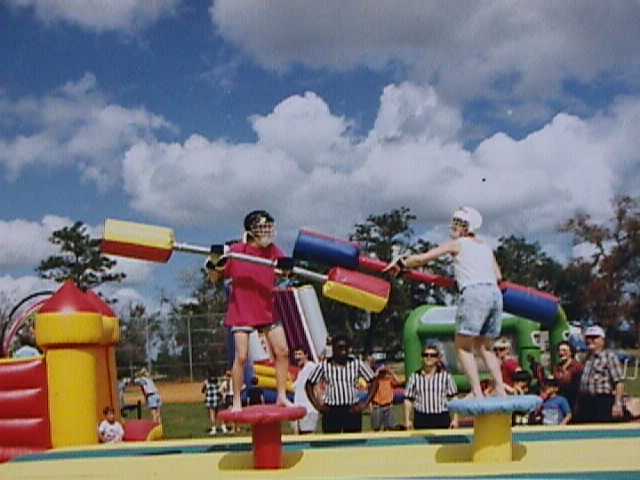 GLADIATOR PEDESTAL JOUSTING
As seen on TV's American Gladiators, 2 players stand atop
pedestals using oversized, foam padded, jousting poles
trying to knock each other off landing on a huge inflatable
mattress. May the best person win !!!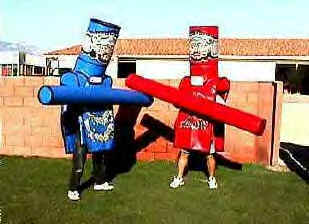 Adult Medieval Joust & a Kiddie Medieval Joust
Jousting with a medieval twist . Suit-up in a " Knights" costume and try to behead your opponent with padded jousting poles by knocking off a velcro attached oversized foam-filled fake head sitting high above their head .

Inflatable PK Soccer Shootout
Challenge your friends, classmates or colleagues by continuously kicking the 6 soccer balls through the random holes on your side,
making them exit on your opponents side in the attempt to be the first person to rid of all their balls and be the winner.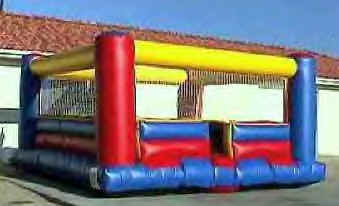 Bouncy Boxing Ring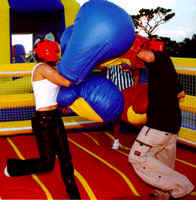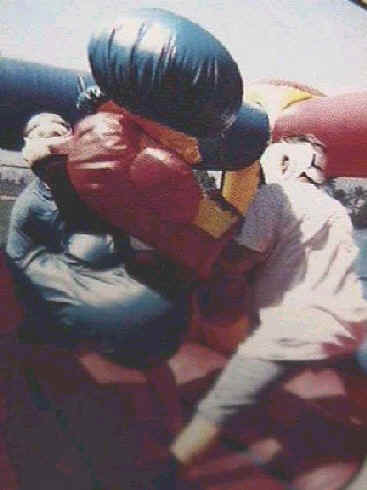 Bouncy Boxing
Enjoy the thrill of boxing at any event with this inflatable boxing ring. Wearing huge, oversized foam-filled boxing gloves and head gear, the boxers try to "knock down" their opponent to become the champ. Pure punching pleasure. Absolutely hilarious to watch, it is just as much fun for the onlookers as it is for the participants.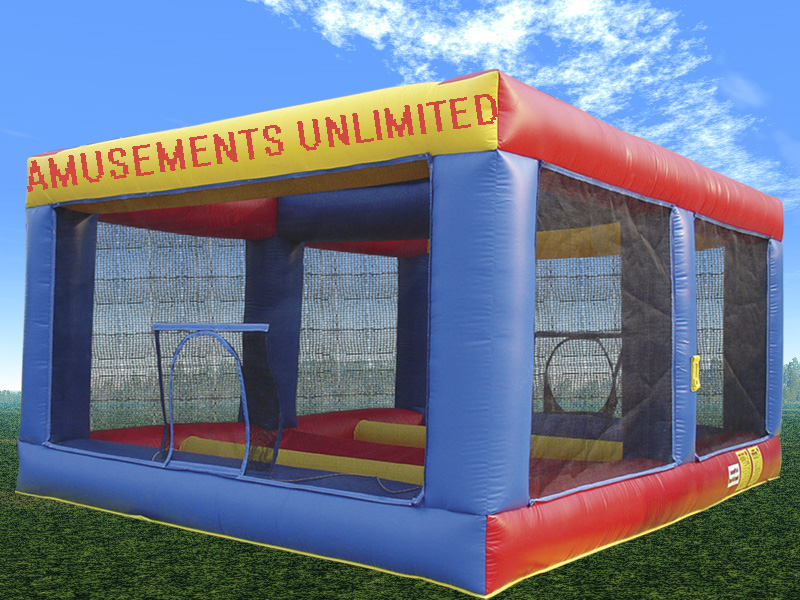 Dodge-It
This hottest new game incorporates the fun of old-fashioned Dodgeball in a safe 20'x16' inflatable cage.
Up to four people can play at a time trying to score the most points by throwing air inflated soft rubber balls at each other.


Inflatable Rock Climbing Wall
Bring excitement and attention to your guests as they conquer the top of this gigantic, 26 foot inflatable mountain as the crowd
cheers them on from below. Challenging for both the rock climber and the novice. Climb at your own speed or race each other to the top. Participants grab and step onto "rocks" protruding from the mountain while edging themselves toward the peak. Upon reaching the top, participants have an awesome view of the event and spectators below. Using professional climbing gear, each climber is fitted with a safety harness and is carefully restrained from below by a trained staff member who lowers them to the ground after reaching the top. A 5 foot wide, 3 foot thick air cushion surrounds the mountain at the base for additional safety. Whether your looking to entertain a crowd or draw one in, this is sure to be the centerpiece of any event! Great for both children and adults weighing between 60 and 250 pounds.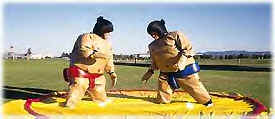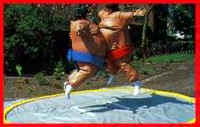 Sumo Wrestling
Step into these oversized padded suits, put on your Miwashi belt and place your wig on your head and you will be transformed into Gigantic Sumo Wrestlers . Now try to push, pull and "blubber" your opponent to the floor. Great for company picnics, grad parties and college events.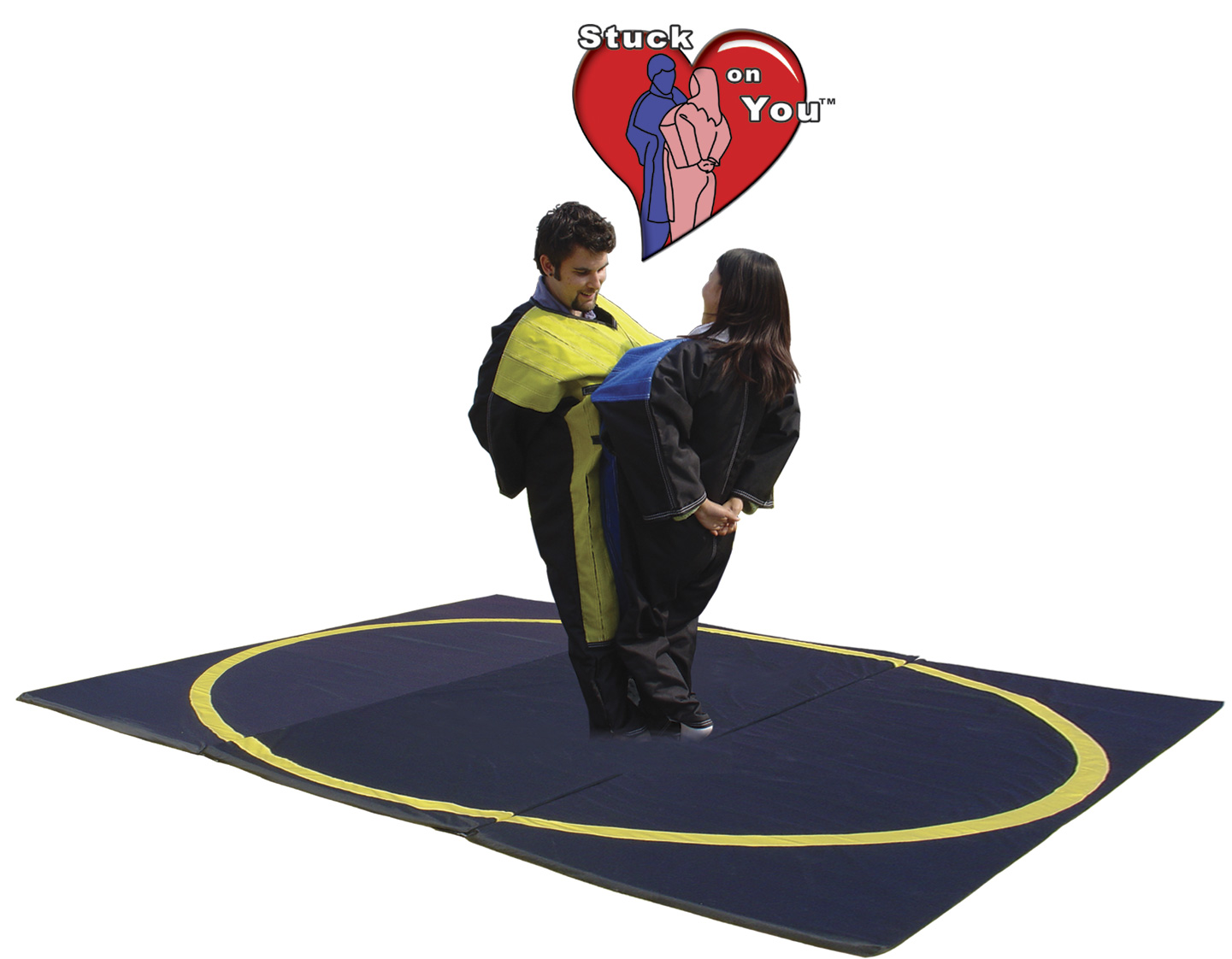 Stuck On You
Hilarious new interactive game. Two players suit-up, one suit is all hook and the other is all loop.
Players stand face-to-face, get stuck together, and must pull themselves apart while keeping their hands behind their back.
Easier said than done!

Velcro Wall
Great excitement and loads of laughs as participants dress-up in a velcro suit and bounce off an inflatable cushion towards an inflatable wall of velcro, trying to get stuck as high as they can, or upside-down or sideways or any way their heart desires .

Human Twister
Enjoy an old-fashioned game of Twister on an inflatable Twister mat. Spin the wheel and match the colors and body parts with the mat and you will have loads of fun transforming into a human pretzel along with the other players. Fantastic for both children and adults. Great for team building.
HUMAN BOWLING


HUMAN BOWLING IN ACTION
Climb into a 4' diameter steel bowling ball and let your
teammates roll you down the inflatable lane to knock
down 5' high foam-filled bowling pins for a STRIKE !!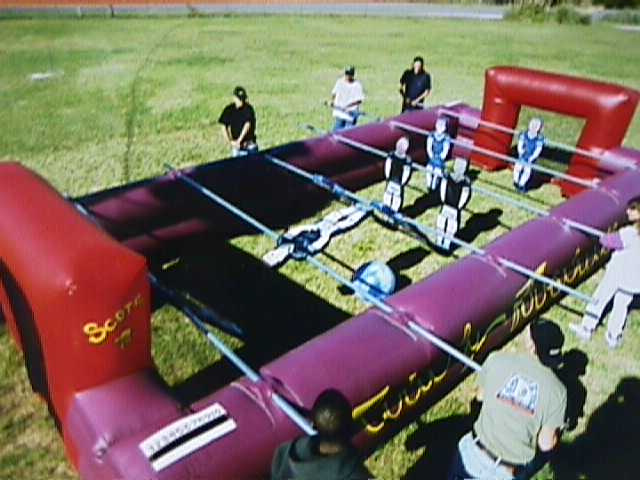 WACKY FOOSBALL
The ever popular game of accuracy. Three players per team
tackle the giant foosball figures as they try to shoot the giant
soccer ball into opposing goals !!!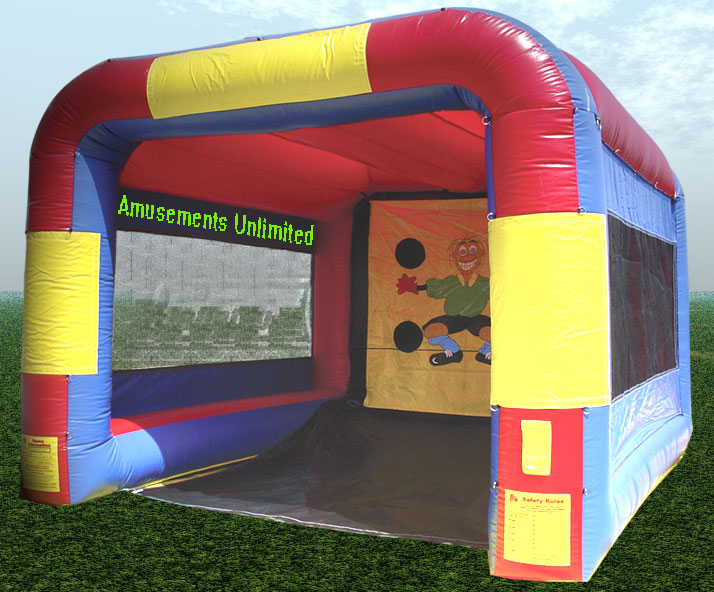 Speedcage
Football Speedcage Test your throwing skills!
Soccer Speedcage Test your kicking skills!
Baseball Speedcage Test your pitching skills!
Can you make the big leagues? Test your skills with this colorful inflatable classic speed cage as it measure the ball's speed with a radar gun.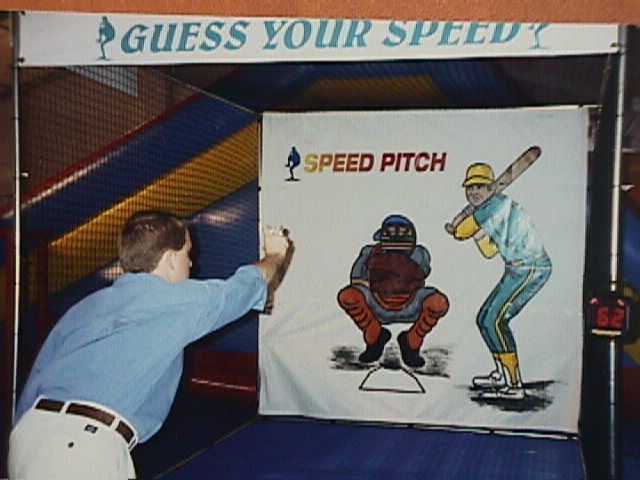 FAST PITCH "RADAR"
HOW FAST IS YOUR FAST BALL ???
8'x 8' x 12'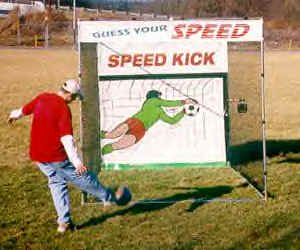 SPEED KICK "RADAR"
HOW FAST IS YOUR SOCCER KICK???
8'x8'x12'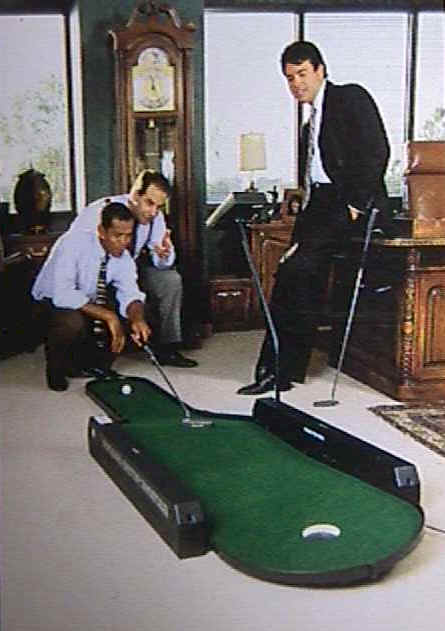 ELECTRONIC PUTTING CHALLENGE
The ultimate putting machine with 72 changing green contours!
Select a fun Game Mode or challenging Practice Green,
whichever, a fully automatic ball return brings the ball
back to you after each putt! A computerized scoring system
keeps records and even sounds a gallery of applause for a
hole-in-one !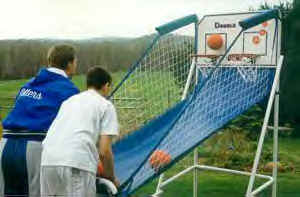 Electronic Mini Basketball Shoot
Two people play against each other in a 30 second period to see who makes more baskets. Includes digital readout.

Inflatable Double Shot Basketball Hoops
Get ready to shoot! 2 competitors go head-to-head in a 30 second period to showoff their basketball skills and see who makes more baskets!!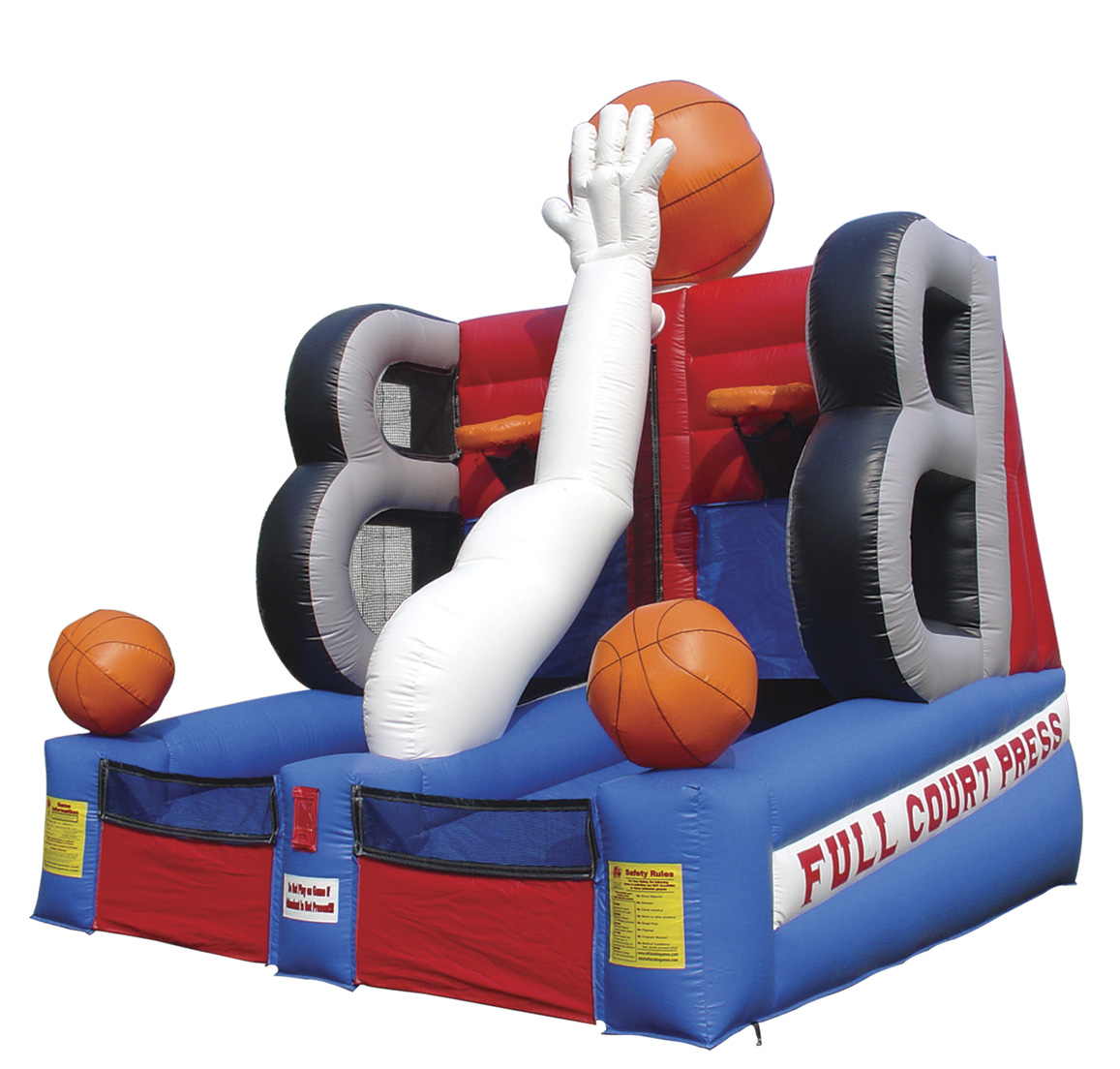 Full Court Press
A truly interactive basketball game. To win the game, two players with two different color basketballs shoot baskets trying to clear-out all the balls on their side first . Don't think that's so easy, you cannot shoot your balls until you have cleared-out all of your opponents balls!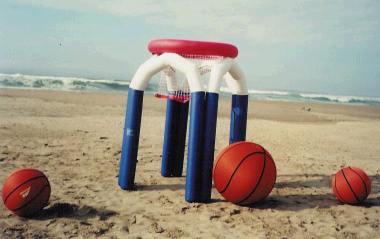 Monster Basketball
BRAND NEW! This great game is a real crowd-pleaser! A whole new way to play basketball where winning is no longer a matter of height or skills rather a game of outthinking your opponent! Laugh your way up to the 360 degree 8 foot tall free-standing, inflatable, oversized basketball hoop as you try to either pass the 40 inch or the 24 inch giant-oversized basketball, kick the oversized balls, or dribble them trying to score points! A great team-building game that works wonderfully on grass, sand, or harder surfaces, indoors or out! Everything you need to start having fun right away. Great for company picnics!

Electronic Football Challenge
Try your skill at throwing the mini football through the different size holes for accuracy. Include digital readout.


Spin Bike
Set of two(2). Get a real rush as you and your partner spin round `n` round trying to coordinate your efforts and master the technique of riding this 3 wheel bike. The back wheel is a free agent so try your best to communicate and maneuver your bike pedaling at the same speed and braking at the same time as you compete against the other team. An absolute blast. Fantastic for team building, company picnics, and parades. Include accessories to create an obstacle course.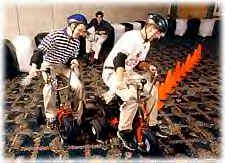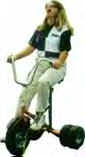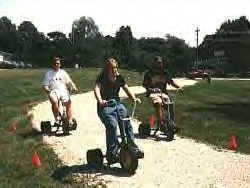 Adult Super Trikes
Set of three. Teenagers and adults have loads of fun racing one-another on these easy to ride wacky trikes with oversized padded seats and six wheels .


RAIN ROOM
A cool relief of mist on any hot, humid day for all ages . Perfect for any outdoor summer event.